My friends are adorable for not telling me blatantly that I'm not wife material. They just smirk at me. Haha! My excuses not to get myself nailed down to do the household are far more than negotiable. That's why my mom quickly agreed when I told her that I will cook the main dish for Christmas Eve. Probably, showing her the recipe swayed her enough to let me do it my way.
For 2011 Noche Buena:
Italian Spaghetti with Ham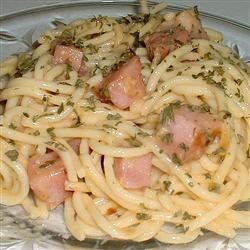 allrecipes.com c/o Erimess
Servings: 8
Prep Time

Yes, I took the guts to experiment on the recipe. That's tough love for my first victims. >devil speaking<
>The reviewers were right that not putting cream/milk would make it seem dry. I chose to put on 1 cup of cream.
>I added 3 cloves of garlic.
>I didn't put the extra salt and butter. Parmesan cheese would be enough to make it taste salty.

>I put on 2 tablespoons of olive oil instead of butter. (No more butter!)
>There were no black olives. (Reason: I don't like the taste of black olives.)
>I only put 3 cups of sliced ham. (That's good enough. Spare some for your breakfast sandwich. Haha!)
I am proud to say that my first victims were not victims after all. They enjoyed the creamy taste of the pasta. Or probably it's just the principle of favorability. Beginner's luck as Santiago puts it. Woah! Enough of Paulo Coelho now...
Before I blabber irrelevantly, let me tell you this: I swear, they liked it. And that made me feel like I want to try more recipes next time. Hoho!
______________________________________________________________________________________
Click here for more information about the recipe. Please read the reviews for recommendations.